How to get to Penida or Lembongan?
Why choose the Bali Fast Boats to make your booking
Easy, safe and secure online booking
Instant confirmation and E tickets
English speaking customer support on Whatsapp
100's of satisfied customers
No hidden fees or charges
All prices in local currency (rupiah)
Balinese owned and managed
Fast boat Routes and Schedules
Generally rule the fast boats for Nusa Lembongan and Nusa Penida depart from Sanur Beach (just North of Grand Bali Beach Hotel). It's easy to get a Grab or a taxi from most of the resort areas in the South of Bali to Sanur beach.
The fast boats to the Gili Islands depart from Padang Bai which is on the east coast a good 45 minutes further North of Sanur. In the case of getting to Padang Bay; prior to the pandemic transport was inclusive however now you need to arrange transport  separately. We recommend you allow a good 1 /12 hours from most areas in the southern resort areas. It is best and most economical to arrange private car transport which starts from Rp380.000 (minimum 2 passengers). Include the price list
Fast boats schedule to Gili Trawangan
Fast boats schedule to Gili Air
Fast boats schedule to Gili Meno
Fast boats schedule to Nusa Penida
Operator
From
To
Departure
Arrival
Idola
Sanur
Nusa Penida
(Nyuh)
08.30 AM
09.15 AM
BOOK NOW
Idola
Sanur
Nusa Penida
(Nyuh)
10.15 AM
11.00 AM
BOOK NOW
Idola
Sanur
Nusa Penida
(Sampalan)
08.15 AM
08.45 AM
BOOK NOW
Idola
Sanur
Nusa Penida
(Sampalan)
02.00 PM
02.45 PM
BOOK NOW
Maruti
Sanur
Nusa Penida
07.30 AM
08.15 PM
BOOK NOW
Maruti
Sanur
Nusa Penida
09.00 AM
09.45 PM
BOOK NOW
Maruti
Sanur
Nusa Penida
03.00 PM
03.34 PM
BOOK NOW
Fast boats schedule to Nusa Lembongan
| Operator | From | To | Departure | Arrival | |
| --- | --- | --- | --- | --- | --- |
| Glory | Sanur | Lembongan | 08.30 AM | 09.15 AM | BOOK NOW |
| Glory | Sanur | Lembongan | 11.00 AM | 11.45 AM | BOOK NOW |
| Glory | Sanur | Lembongan | 02.00 PM | 02.45 PM | BOOK NOW |
| Arthamas | Sanur | Lembongan | 09.15 AM | 10.30 AM | BOOK NOW |
| Arthamas | Sanur | Lembongan | 02.30 PM | 03.14 PM | BOOK NOW |
| Arthamas | Sanur | Lembongan | 05.15 PM | 05.45 PM | BOOK NOW |
Fast boats to Gili Trawangan, Air, Meno and Bangsal Lombok
With the capacity which is comfortable for 210 passenger, Bali Eka Jaya Fast Boat is undoubtedly one of the most popular options for the fast boat service between Bali and Gili Islands.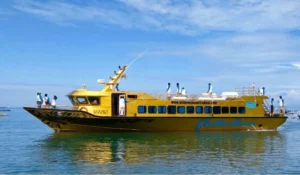 Golden Queen Fast Boat where this boat is equipped with complete facilities such as AC (Air Conditioner), Sound System, Spacious Deck.
Fully insured brand new boat with the latest Suzuki engine 5 X 250HP (boat "Gili Gili III" – 78 seats capacity) with 25 - 35 knots cruising speed, JPS, radio, life raft, life rings, life jackets, toilet, reclining seats for relaxation, spacious and cozy interior.
Fast boats from Nusa Penida, Padang Bay - Gili Trawangan
D Prabu going from Padang Bai / Nusa Penida directly to Gili Trawangan, Gili Air, and The last at Bangsal, also we provide from Gili Trawangan, Gili Air, Bangsal to Padang Bai. Our boat with 70 passsenger of capacity, with a great facility inside like wifi, we also provide you with mineral water , wet tissue and candy for frees and Sanitizing Kit.
Fast boats to Nusa Penida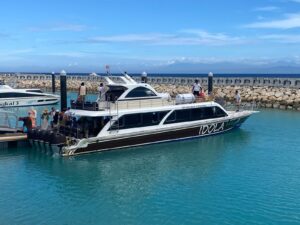 The route provided is from Nusa Penida to Sanur and Sanur to Nusa Penida that is in the morning and afternoon. Boat with passenger capacity of 85 people with 4 units of engines @ 350PK so it has a relatively fast travel time of 35 minutes and has a crew of 8 people.
Maruti Group pioneered the fast boat shuttle service from Sanur Beach Bali to the Island of Nusa Penida and Nusa Lembongan since 2004. We put the emphasis on safety, comfort, professionalism and passengers satisfaction in all our services.
Fast boats to Nusa Lembongan
Arthamas Fast Boats offers fast and reliable transportation from Sanur to Lembongan Island. With comfortable seating, air-conditioning, and experienced crew, Arthamas Fast Boats ensures a safe and enjoyable journey to your destination. Book your trip now and experience the convenience and speed of Arthamas Fast Boats.
Glory Fast Cruise is a premium cruise transfer company operating between Sanur beach and Nusa Lembongan Island in sunny Bali, Indonesia. Express has a top speed of 30 knots which will ensure a fast and comfortable boat ride to Nusa Lembongan Island in under 35 minutes.
Transportation
We highly recommend that you pre-arrange and book your transport from Padang Bay on your return trip. You might find that to pick up the stand-by transport at Padang Bay to take you back to your chosen resort in South Bali will cost you substantially more.
Should you require assistance with booking transport from your accommodation to Padang Bay then please indicate on your booking and someone from the boat provider will be in touch with you to coordinate the location and time of your pickup. You will then be requested to make payment directly to the driver of the car and your transport will not be billed by us.
Most departures from Padang Bai are around 9am although there are some later sailings. Leaving at 9am allows you to be in the Gilis before lunch and make the most of your first day settling in and exploring.
Changing and amending bookings:
If you want to amend your booking in anyway then it cannot be changed within 36 hours of your scheduled ticketed time. To make an amendment you must whatsapp us at The Bali Fast Boats and await an acknowledgement.
Cancellations:
In the event of a cancellation it must be made 72 hours prior to the scheduled ticketing. Processing of refunds can take up to 10 days and refunds will be subject to transaction charges and credit card fees.
The Bali Fast Boats provides you with a one stop shop to easily reserve and securely purchase your fast boat tickets to the islands off Bali (Nusa Penida and Nusa Lembongan) and the Lombok Gilis of Gili Trawangan, Gili Air and Gili Meno.
We have selected a select few fast boats which we deem to be the safest and reliable. There are a multitude of fast boat operators between Bali and the islands, however in certain seasons the straits can become quite treacherous therefore we offer the larger fast boats that normally sail in most conditions.
Contact Us
Contacting us is always easy and we are always contactable on Whatsapp if you get into any difficulties with your booking or have any other query.